Book Now BAK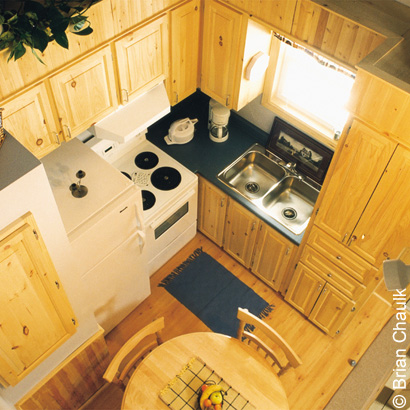 Visitors can relax in the tranquil setting of all-pine interiors, enhanced by tasteful decor and solid pine and birch furniture. The Chalets have an upstairs bedroom and outdoor balcony, which overlooks the breath-taking beauty of its surroundings.
Your hosts have considered all the needs of their guests, such as wheelchair accessible accommodations. For a romantic getaway or wedding celebration, the deluxe suite is the perfect retreat, complete with a whirlpool bath off the bedroom.
*To accommodate the needs of all our guests we have a "no pet" and a "no smoking" policy.
Payment and Cancellation Policy
A non refundable deposit of 25 % is processed at the time the booking is made to guarantee your reservation. The balance is due upon arrival and can be charged to your credit card at that time. Reservations are guaranteed upon receipt of the deposit.
Our Cancellation Policy at Middle Brook Cottages and Chalets is 30 days, so please be sure to call within that time period or send us an email if you are not able to keep your reservation. We will confirm your cancellation with a written email for your files along with a confirmation number if requested.
If you cancel prior to 30 days we will issue a full refund of your deposit, less a 5% administration fee.
If you cancel after 30 days and prior to 16 days of your arrival, one half of your deposit will be reimbursed.
If you cancel within the 15 days prior to your arrival the deposit will not be reimbursed and a one night stay will be charged to your account. Please note the cancellation policy also applies to reservations booked with Gift Certificates. "No Shows" and unscheduled early departures are subject to full payment for all nights reserved.
Since our reservation and cancellation policies must be more restrictive than a large hotel, we recommend you consider traveler's insurance to protect your vacation. A cancellation is very disappointing to both you the potential guests, who have decided to cancel and the owners of Middle Brook Cottages and Chalets. In most instances, we will have turned away other guests who would have reserved for your dates. The Gros Morne National Park area is in huge demand during the busy summer season, therefore cancellation policies are essential to our seasonal tourism business.